Bet The Belmont Stakes at Bet America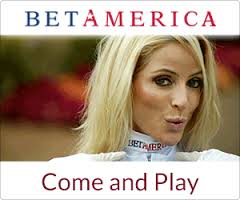 Bet America and the Belmont Stakes are a perfect match and it's a match that's ready for the big race. Bet America has several special American Pharaoh special bet offers and just like many US horse racing fans, they don't think there's a horse that can stop him taking this one, and the Triple Crown.
First things, first, and if you've not got your Bet America account opened then you will of course need to do that, and while there and making your deposit you can collect the special Bet America welcome bonus of up to $300 and as Bet America is 100% legal, and fully regulated in the US you'll have no trouble at all opening that account, and getting your deposit made, with many convenient banking options at your disposal.
The Belmont Stakes takes places Saturday June 6th, as if you didn't know, however if you get your bets down early At Bet America, during the Friday Happy Hour promotion there's a cool American Pharoah special refund available. Should you place a $10 or more bet on American Pharoah to win, and that doesn't happen then you'll get your bet refunded, and for that deal you'll need to place your bets between 5 and 6pm ET on Friday June 5th. On that same Friday, between 8 and 9pm ET there's also a More Than 3 Lengths = x3 Winnings offer too....and we do like this one.
Should you place a win bet on American Pharoah and he romps home by 3 lengths or more, then Bet America will payout triple your win...what a sweet Belmont Stakes deal. The racing world will be watching the Belmont Stakes to see if racing history can be made, and Bet America are making all just that little bit more exciting.